What is Footgolf?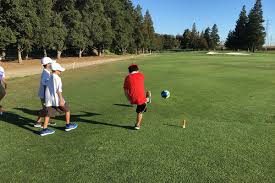 FootGolf is a combination of the popular sports of soccer and golf. The game is played with a regulation #5 soccer ball at a golf course facility on shortened holes with 21-inch diameter cups. The rules largely correspond to the rules of golf. FootGolf as a game is played throughout the world in many different forms, but as a sport it is regulated by the Federation for International FootGolf (FIFG). The American FootGolf League (AFGL) is the exclusive member of the FIFG and governing body for the sport of FootGolf in the United States. The AFGL is organizing tournaments throughout the U.S. and working with golf courses to bring FootGolf to their clubs as another avenue for revenue and to develop the game further.
Rules
The game is played the same way as golf, except player's use a football instead of a golf ball and the ball is kicked rather than struck with a club, working towards a 21-inch "cup" in place of the usual golf hole. The player who plays the 9 or 18 holes with the fewest shots wins. Footgolf as sport is played on golf courses. It also could be played on other special footgolf built grass courses. The first shot has to be played from the tee box, and to reach the hole, bunkers, trees, water and hills have to be crossed or avoided. This means a powerful shot is useful, but not decisive. Reading the course, a smart approach and accurate putting are even more important.
The game is played a regulation No. 5 soccer ball. Because soccer balls travel less distance than golf balls, footgolf is played on holes shorter than those used for golf, with one course in California averaging 157 yards. Pars are typically 5 or below. Paul Collinson of the UK Footgolf Association has observed that compared to golf, footgolf is quicker to play, more accessible to players, and does not require expensive equipment.
Rates for Footgolf
Age 17 & Under: $5
Age 17 & Above: $8
Ball Rental: $2
Who is the National Footgolf Association (NFGA)?
The NFGA is run by former professional soccer players, event planners, coaches, and fun committee members and is the official Footgolf partner of Emerald Lakes Golf Course and other organizations across the Nation. Organizing and helping others organize fun, festive, and competitive tournaments and leagues open to players of all ages and skill levels while raising money for local non-profits is the primary goal of the NFGA. The NFGA also consults and increases revenues for Footgolf courses with its unique and successful marketing programs at no cost that reach the masses in each local market. You can visit the NFGA at www.theNFGA.com and on social media to learn more or get involved!